Last winter, we became a part of a new skitouring project in the Altay Mountains, East Kazakhstan.
Unlike Russia these days, Kazakhstan is a peaceful,  hospitable and safe country,
with relatively easy logistics and visa-free for most nationalities.
Being part of Siberia geographically, Altay Mountains provide the same guaranteed powder skiing from early November.
We operate on 25 sq. kilometres of exclusive terrain, with the best tree skiing in Central Asia,
and offer guaranteed first-class skitouring, along with authentic and comfortable accommodation.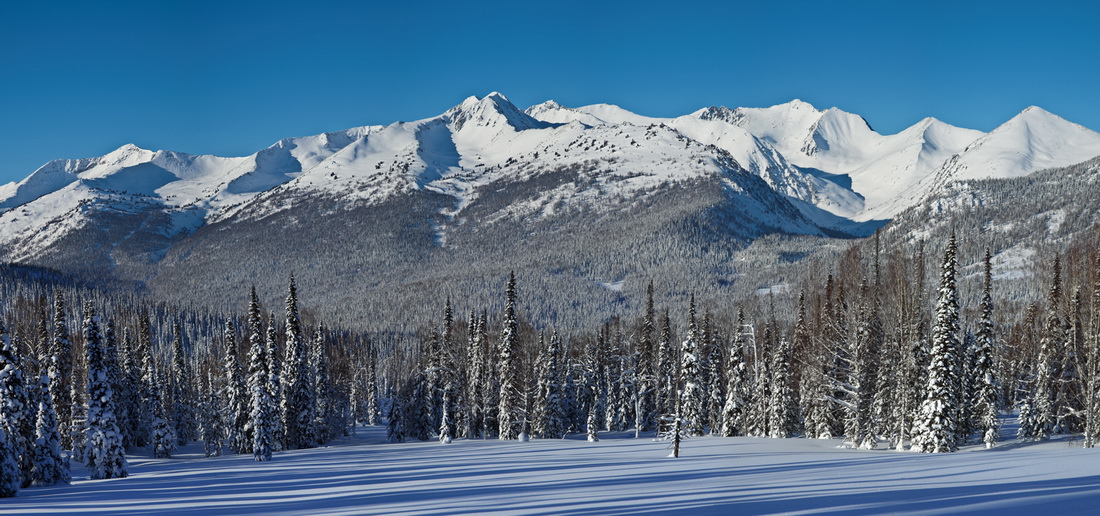 Kuznetsky Alatau is the mountain range in Western Siberia, about 300 km long and 150 kilometres wide in the widest part. Its highest point is 2217 metres. These mountains have a smooth outline with rather steep western and gentle eastern slopes. The place is unique for it's glaciers, which are not big but lay just at 1250 to 1450 meters above sea level. This is the lowest glacier's elevation on this latitude. They appeared and keep growing with the help of massif snowfalls during winter together with relatively cold temperatures.
Due to the massive snowfalls the place should be perfect for skiing, and it's true. For many years the locals has been skitouring in these mountains, skiing powder as early as beginning of November. And we run skitouring programs in Kuznetsky Alatau since 2012. While the main skitouring place called Luzhba cover quite a small part of the range, the rest of its territory is open for exploration. And today we offer all the adventurers an exploratory heliskiing in this place with a chance to become a real pioneer and ski the slopes which have never seen people.
Reasons to go there for heliskiing:
Unique exploratory heliskiing in Siberian wilderness.
Guaranteed powder skiing (there is no other type of snow in Siberia).
Small, exclusive groups with maximum 4 guests per helicopter.
Scenery of Siberian mountains.
Gastronomical experience of Siberian cuisine.
Highest safety standards and most experienced heliski guides.
Itinerary
Saturday: Evening flight from Moscow to Novokuznetsk city.
Sunday : Arrive in Novokuznetsk early morning; transfer to the lodge (around 2 hours), afternoon rest.
Monday to Saturday: Heliskiing.
Sunday: Early morning departure to Novokuznetsk airport.
Booking