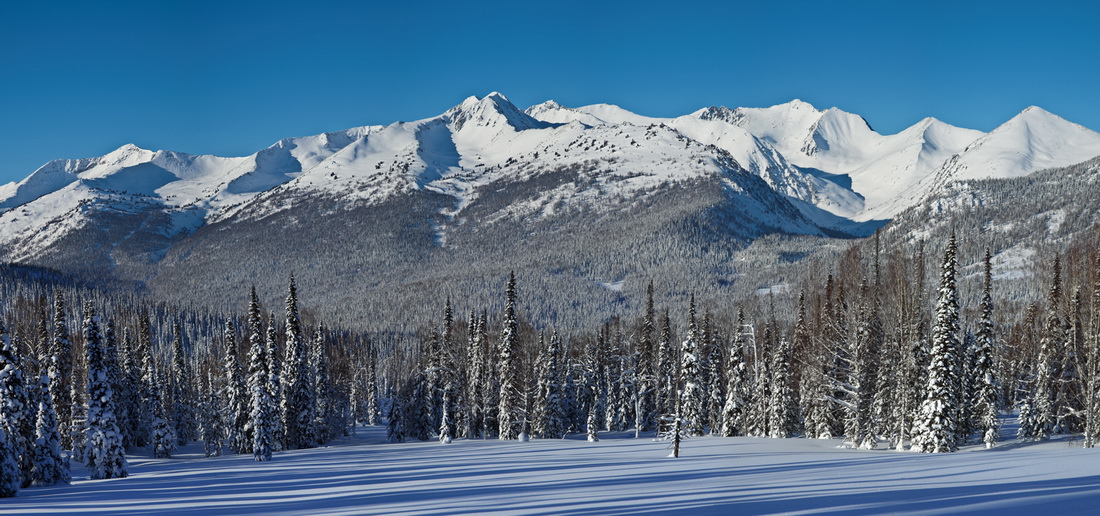 Kuznetsky Alatau is the mountain range in Western Siberia, about 300 km long and 150 kilometres wide in the widest part. Its highest point is 2217 metres. These mountains have a smooth outline with rather steep western and gentle eastern slopes. The place is unique for it's glaciers, which are not big but lay just at 1250 to 1450 meters above sea level. This is the lowest glacier's elevation on this latitude. They appeared and keep growing with the help of massif snowfalls during winter together with relatively cold temperatures.
Due to the massive snowfalls the place should be perfect for skiing, and it's true. For many years the locals has been skitouring in these mountains, skiing powder as early as beginning of November. And we run skitouring programs in Kuznetsky Alatau since 2012. While the main skitouring place called Luzhba cover quite a small part of the range, the rest of its territory is open for exploration. And today we offer all the adventurers an exploratory heliskiing in this place with a chance to become a real pioneer and ski the slopes which have never seen people.
Reasons to go there for heliskiing:
Unique exploratory heliskiing in Siberian wilderness.
Guaranteed powder skiing (there is no other type of snow in Siberia).
Small, exclusive groups with maximum 4 guests per helicopter.
Scenery of Siberian mountains.
Gastronomical experience of Siberian cuisine.
Highest safety standards and most experienced heliski guides.
Itinerary
Saturday: Evening flight from Moscow to Novokuznetsk city.
Sunday : Arrive in Novokuznetsk early morning; transfer to the lodge (around 2 hours), afternoon rest.
Monday to Saturday: Heliskiing.
Sunday: Early morning departure to Novokuznetsk airport.
Booking
Dates 2022 (dates of arriving to Novokuznetsk and departing from):
February 06-13
February 13-20
February 20-27
February 27 - March 06
March 06-13
March 13-20
Any weeks from mid-November until early January are also available, by request for private groups.
---
Price: 7 200 €
Group discounts available, contact us for details.
---
Price includes:

Organization of the whole trip from/to Novokuznetsk.
6 possible days of heliskiing.
6 hours of helicopter flight time per group of 4 persons.
Experienced and internationally certified heliski guides.
6 nights' accommodation in Ozerki Lodge (double occupancy). Single rooms are available for extra cost.
All meals in Ozerki Lodge (breakfast, mountain lunch, aprés ski soup and snacks, dinner).
Group transfers Novokuznetsk - Ozerki Lodge - Novokuznetsk.
Safety equipment: transceiver, probe, shovel, and avalanche backpack.
Extra expenses:
International and domestic airfares.
Travel insurance/travel cancellation insurance
Wine and spirits.
Activities beside the programme.
Helicopter transportation to the lodge (by request).
Single rooms supplement (heliski lodge) - 350 Euro per week.
Extra flight hours - 2300 Euro per flight hour (divided by the number of guests flying).
---
Program Logistics
There are few flights per day from Moscow to Novokuznetsk (NOZ), with morning arrival. After arrival we will  take a ride (around 2 hours) to Ozerki Lodge which is situated close to Mezhdurechensk city. Then we meet the guides, have safety briefing and afternoon rest with walking along Tom river or having classic Siberian Banya. Basically, we do not heliski on the day of arrival, but depending on weather forecast it  might happen.
We'll spend the next six days skiing and boarding deep powder, enjoying scenery and delicious Siberian cuisine.
On the last day of the programme (Sunday), we depart early morning to Novokuznetsk airport.
Daily schedule
Morning: Reach breakfast, preparation and start heliskiing around 9AM. We'll be skiing and boarding as long as possible, according to the wishes of the group, safety concerns and daylight.
On our return to the Lodge there is aprés-ski soup and snacks, then Banya (traditional Siberian bathhouse).
Evening: Dinner and free time.
Accommodation

Our Lodge and helipad are situated in few kilometres from Mezhdurechensk city, on the shore of river Tom and just in several flight minutes from the mountains.
We stay in Ozerki Lodge which consist of several cabins. Nice and authentic design, cosy restaurant - all this creates a pleasant and relaxing atmosphere. Basically you stay in twin rooms, double occupancy. Single or double rooms with king-size bed are also available.
After the day of powder skiing and snowboarding, visit of Siberian Spa is worth to do! There are few types of Banya's (traditional Russian bathhouse), with steam rooms made of different types of Siberian wood.
And yes, WiFi is available. But very probably you won't use it a lot during the week, life in Siberian mountains is too busy with pleasant things. Social media can wait.
The Banya (traditional Russian and Siberian bathhouse) is the best way to warm up and relax after a long skiing day. The banya is in a separate building, where a large amount of hot steam is created with the help of water and hot air. Inside the banya, there are wide wooden benches along the walls, built up one above the other like steps.. You can sit or lay on the benches - the higher up the bench, the hotter the air is. Having warmed up enough, you leave the steam room for a break. You can pour cold water over yourself from a tub, or follow the Siberian method and jump straight into the snow. Overall, the banya is not just a place to warm up and wash; it is a real Siberian experience and will become a great memory!
Meals
We do our best to make the food, as well as the skiing, a remarkable part of your trip. This includes traditional Siberian and Russian dishes with premium local ingredients, but also modern cuisine. There are three hot meals a day. Here are some examples of the menu:
- Breakfast: Porridge with Siberian berries; omelette or fried eggs; bliny (Russian pancakes similar to the French crepe); cereals, milk, yoghurt, fruit salad. Tea, coffee, juice.
- Lunch: Soups and hot snacks such as home-made pies with meat and vegetables.
- Dinner: Salads; dishes with local meat or fish, traditional Russian and Siberian desserts.
- Snacks during the heliskiing day: dried fruits/nuts, chocolate bars, sandwiches, tea/coffee, fruits.
In the lodge's bar you will have a choice of beer, wine, champagne, spirits and liqueurs.
Our chef can accommodate special dietary requirements and food allergies. Our guests are asked to complete a registration form, and mention any dietary needs so we can be fully prepared for your arrival.
Guiding &Group Size
In standard programme, we operate with 2 helicopters and 3 groups. Each group is 4 persons, 1 guide per group.
Helicopter flight time
Some operators charge per vertical feet or meters skied. We base our helicopter use on actual flight time. It allows us not to stick to closest runs even if the snow conditions are not the best there and be able to fly a bit further out where we might find better snow or scenery. Our philosophy is to provide best experience, and be sure, few additional flight minutes will worth it! Still, if skiing is good right around the corner from the lodge, we will go straight there, save the flight time and provide best possible skiing and snowboarding.
Flight time is calculated from when helicopter starts spinning the rotor and until it stops.
If we exceed all flight hours, we can continue to heliski at the price of 2300 Euro per flight hour. Cost of extra flight time  will be divided by the number of guests riding. If we don't use included flight hours due to bad weather or technical problems, we refund you unused time, based on following calculation: 1900 Euro per flight hour. The difference between cost of extra flight time and refund for unused hours is explained by the fact of complexity and pre-expenses involved on having a full time helicopter for the season.
Prerequisites
Because of the nature of the backcountry terrain, we ask our guests to meet a certain level of fitness and skiing ability. To join our groups, you should be:
- Intermediate or higher level of skiing/boarding, including in deep-snow conditions.
- Healthy and in good physical shape.
Terrain
Kuznetsky Alatau range has great opportunities for skiing in treeline zone as well as in alpine. Terrain is variable and has everything to fulfil wishes of good skiers and snowboarders - long open lanes through the trees, pillows, steep treeline runs.
Landings are up to 2000 meters above sea level. Runs are from 400 to 1000m vertical metres with slopes from 25 to 35 degrees.
On an average day we can do up to 10-12 runs, but of course varies according to the group's abilities.
Helicopters
For this program we use AS350 B3 Eurocopter helicopters. These helicopters are worldwide the most used ones for heliski operations. This machine has 4 seats for the guests and 1 for the guides. Helipad is situated directly in front of our lodge.
Helicopters are maintained daily by mechanics of Altay Avia helicompany, according to official aviation rules.
Pilots
Our pilot team is few local pilots from Altay Avia helicompany, with extensive experience of flying in the Siberian mountains.
Weather
The climate in Western Siberia is continental: In winter the temperatures from north to south range from -10 to -40 degrees Celsius, and in the summer they range from +15 to +35. The average day temperature in February/March is minus 8-10 Celsius (about 17 Fahrenheit). With low humidity, no wind and the strong sun, it feels no colder than winter in the Alps. Even on the slightly colder shaded sides of the mountains it is still comfortable for skiing and boarding. However, this is Siberia, and occasionally morning temperatures can drop to minus 25 Celsius (minus 13 Fahrenheit). Once the sun's up it gets warmer, and our guides will chose sunny terrain for skiing. Although such days are rare, it is a good idea to be ready for these cold temperatures.
Like in all other heliski destinations on earth, in Kuznetsky Alatau there will be also days with strong snowfall and poor visibility, where safe flying with a helicopter is not guaranteed any more. For sure on those days our helicopter will stay on ground. The options for such a days are:
Skiing on the ski hill near Mezhdurechensk city. One chair lifts, 400 vertical meters.
Skitouring with suburban train approach (1-1.5 hours of ride).
Cross country skiing around the lodge, there is a 2km piste. Rental of XC skiing equipment is available.
City walks in Mezhdurechensk, coal capital of Kemerovo region.
Visa
To travel to Russia, most foreign nationals are required to have an Entry Visa to Russia. Russian visas can be obtained at your local Russian Embassy or Consulate. In order to apply for a visa you will need proof of your forthcoming visit to Russia, which will be supplied by Skiing In Siberia on receipt of your final payment. Provided all the documents are ready, the process usually takes no more than 3-10 working days for a Russian Tourist Visa. However, we strongly recommend you apply at least one month in advance of your trip. It is also possible to ask special agencies for a full visa service.
Insurance
Being adequately insured is a condition of booking a trip with Skiing in Siberia. You must have travel and medical insurance, which covers heliskiing and freeriding, as well as helicopter search and rescue. For your peace of mind and to avoid any financial hardship that an unexpected cancellation could cause, we strongly recommend getting Trip Cancellation insurance.
Time in Mezhdurechensk - GMT+7
Language
Not many people in Russia speak a foreign language (more likely in big towns, less in the countryside). But people are helpful and will easily understand what you need. The alphabet is Cyrillic so reading can be difficult. If you wish to practice your Russian, we recommend you purchase a phrase-book in advance
During your trip, you will be accompanied by an English-speaking guide. Some of our Ski Guides speak German and French as well, but our general language is English. For private groups, we can try to arrange the guide who speaks your language.
Money
The Russian currency is the Rouble (RUB). No other currencies are accepted for payments. Cards are accepted in most big shops, hotels and restaurants, but this type of payment is still not as wide-spread as in Europe or America. We recommend that you have some cash with you for the whole holiday. You can change money in banks (closed on weekends and national holidays) or use an ATM (there are plenty in all towns and cities).
Additional flight hours, alcoholic drinks and any additional service during your stay can be paid by credit cards.
Moscow transit
There are three international airports in Moscow: Domodedovo (DME), Sheremetyevo (SVO), and Vnukovo (VKO). Depending on your flight plan, you might need to change airports which can be a time consuming. If you do need to change airports, we strongly recommend you allow at least 2 hours for your airport-to-airport transfers.
We advise you to carefully read the following list. You will not be able to buy or rent the equipment on the spot (except limited quantity of skis), so do bring everything with you. If you have any questions about equipment or items on (or not on) this list please don't hesitate to e-mail and ask our advice.
Please service your skis or board before arrival, or bring pocket waxes as there is no ski-service on our base. We have some repair parts and tools to fix the most common problems which might arise, but we do not have equipment for hot waxing.
Ski rental
We have several pairs of powder skis for rent. Please, check the details by contacting us.
Here is an example of set of clothes that we recommend. You can change it according to your preferences, but be sure that your clothes suit the weather and temperature during your trip (see Weather section).
Clothing:
Heavy/mid weight socks compatible with your footwear - 2-3 pairs.
Heated electric socks or soles is a very good option and highly recommended.
Base Layer Top and Bottom, warm – 2 pieces each.
Mid-Insulation Layer Top - Polartec 100 or analog.
Mid-Insulation Layer Bottom – Polartec/Powerstretch pants or analog.
Warm jacket – Synthetic or down.
Weather Layer Top - Gore-Tex/Softshell or other waterproof jacket.
Weather Layer Pants - Gore-Tex/Softshell or other waterproof pants.
Down jacket warm to minus 20-25°C.
Hats (warm and light).
Insulated gloves
Insulated mittens
High snow boots

Slippers for the lodge
Ski gear:
Skis or Snowboard. We recommend skis 110mm underfoot or wider.
Ski/snowboard boots.
Poles
Ski helmet
Personal equipment:
Personal First Aid kit (blister kit, your personal medications)
Sunglasses (CE rated 3 or 4)
Ski goggles, plus extra pair.
Sun/Cold and Lip Cream (factor 30+).
We provide avalanche safety gear: transceiver Pieps DSP, probe,shovel, avalanche backpack Scott AlpRide.