Last winter, we became a part of a new skitouring project in the Altay Mountains, East Kazakhstan.
Unlike Russia these days, Kazakhstan is a peaceful,  hospitable and safe country,
with relatively easy logistics and visa-free for most nationalities.
Being part of Siberia geographically, Altay Mountains provide the same guaranteed powder skiing from early November.
We operate on 25 sq. kilometres of exclusive terrain, with the best tree skiing in Central Asia,
and offer guaranteed first-class skitouring, along with authentic and comfortable accommodation.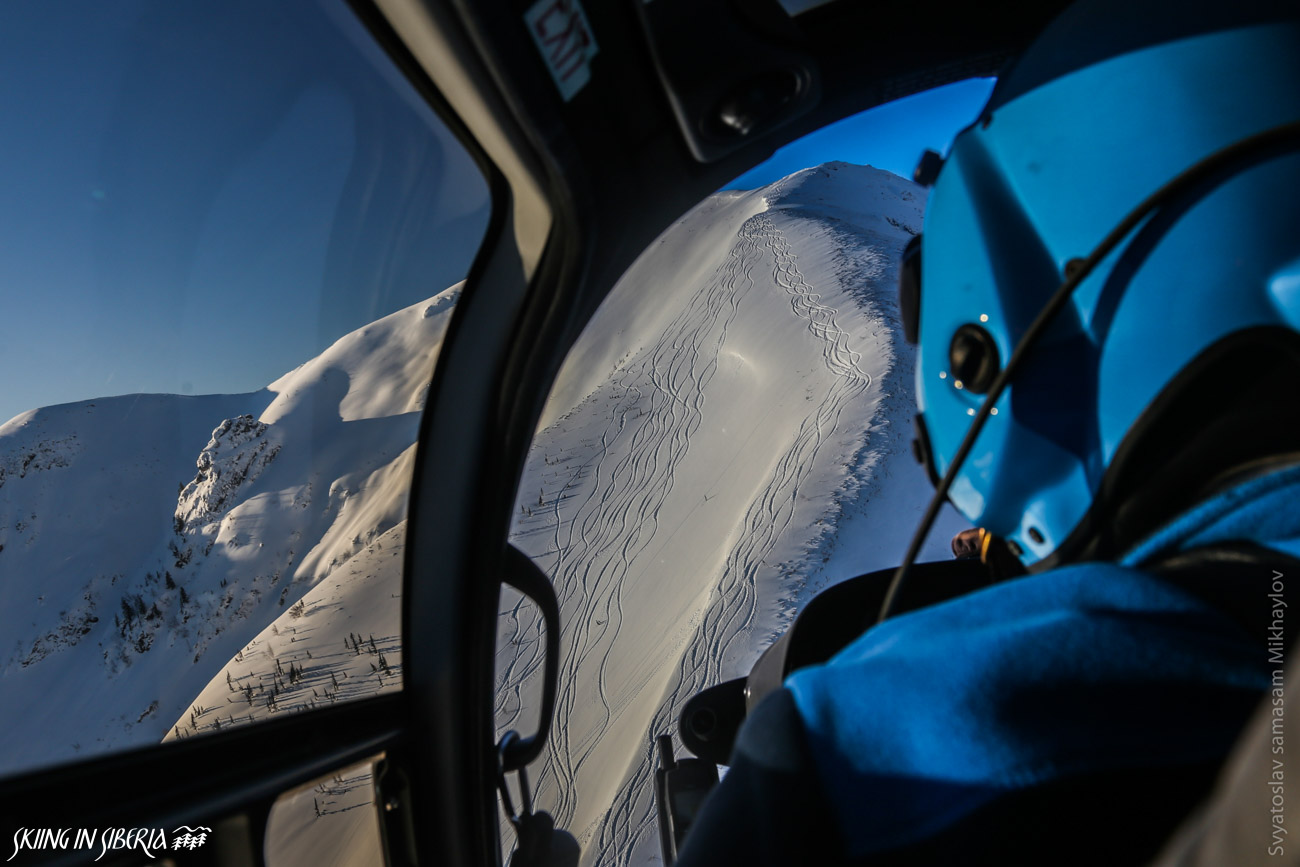 Khamar-Daban is one of the most interesting mountain regions near Baikal lake. It stretches for more than 350 km, and creates a varied mountainous land spreading South from the lake. Its south-western part has the greatest precipitation in the region and various terrain. In the beginning of winter (up until mid-January), before Baikal is covered with ice, precipitation is abundant. Combined with stable cold temperatures, it brings a huge quantity of low-dense powder snow, even on low altitude.
Our Lodge and helipad are situated in Mangutay village, on the shore of Lake Baikal and close to the mountains. Rich Siberian breakfast, take off and let's the powder riding begin! Skiing and boarding in Siberian powder, with a mid-day break for delicious lunch. Upon your return to the lodge, traditional Russian appetizers and soups are already on the table, just to fill the stomach. And right after – traditional Siberian Banya (bathhouse) with few different types of steam rooms and outdoor bath, with a mountain view. There is way more pleasant stuff to do – traditional Russian tea ceremony or home-made Siberian vodka tasting. Delicious dinner comes after this relaxing time, where you enjoy local meat or fish dishes and delicate deserts from our chef. Deep sleep and there is another day, and everything repeats…
Reasons to go there for heliskiing:
Best skiing terrain reachable within a short approach time.
Guaranteed powder skiing (there is no other type of snow in Siberia).
Small, exclusive groups with only one group per helicopter.
Scenery of Lake Baikal and Siberian mountains.
Gastronomical experience of Siberian cuisine.
Highest safety standards and most experienced heliski guides.
Itinerary
Saturday: Evening flight from Moscow to Irkutsk city.
Sunday : Arrive in Irkutsk early morning; breakfast in Irkutsk and transfer to the lodge (around 2 hours), afternoon rest.
Monday to Saturday: Heliskiing.
Saturday evening: Transfer to Irkutsk, night in the hotel.
Sunday: Morning flight to Moscow.
Booking